Overview
---
Instantly create trusts and Companies in Simple Invest 360 with our CAS 360 integration.
Trust and Company data from CAS 360 can now be imported into Simple Invest 360.
How does this work?
---
An Import from CAS 360 button will now display when creating new entities in Simple Invest 360.
1. From the Main Toolbar, select Home then click Entity Setup
2. Select the Entity Type as either Trust or Company

3. Under Import from CAS 360 click
A search bar will display allowing you to pick from an existing company or trust in your CAS 360.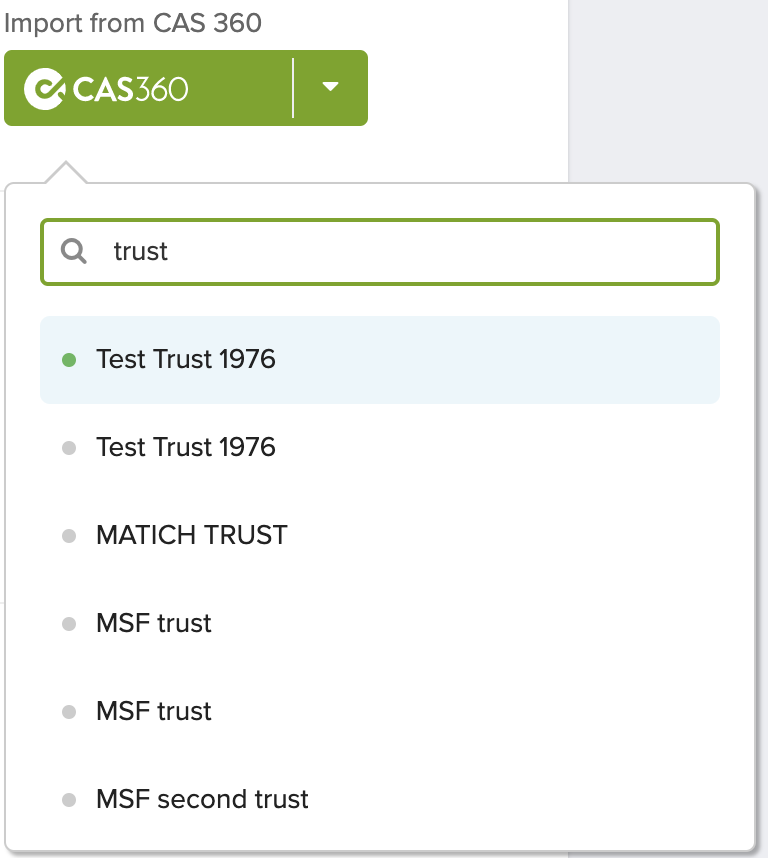 Important
The search function will be available only if your firm has a current subscription to CAS 360.
What Information does Simple Invest 360 bring in?
---
Once the Company/trust is selected and created, Simple Invest 360 will upload the following information from CAS 360:
Trusts
Trust Name
ABN
Trust Type
Formed Date
Postal Address
Physical Address
TFN (Coming Soon)
Trust Relationships (Coming Soon)
Companies
Company Name
ACN
ABN
Incorporation Date
Postal Address
Physical Address
Company Relationships (Coming Soon)