Introduction
---
The Unit Holding report is available to Unit / Hybrid Trusts. It contains details about unit holdings for beneficiaries and transactions related to these unit holdings during the financial year selected.
It shows the following information for each unit class applicable to each beneficiary:
Transaction Date
Transaction Type
Units Acquired
Units Transferred
Unit Balance
Amount Paid
Amount Unpaid
Beneficially Held Status.
Navigation
---
| | |
| --- | --- |
| Navigate to Reports from the Main toolbar on the left side | |
| Further select the Reports section | |
Instructions
---
Search for Unit Holding Report using the Search Report bar. Alternatively, locate the Unit Holding Report under Letters/Minutes.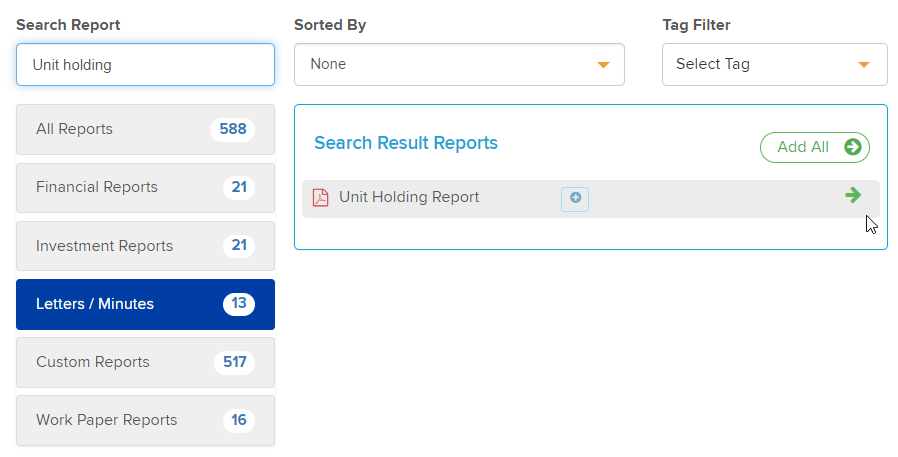 You can add the Unit Holding Report to the Report Pack by selecting the Add To Pack arrow.

Users have the option to preview or download this report as a PDF or Word document. Select to remove the document.

Example Report
---
Page 1: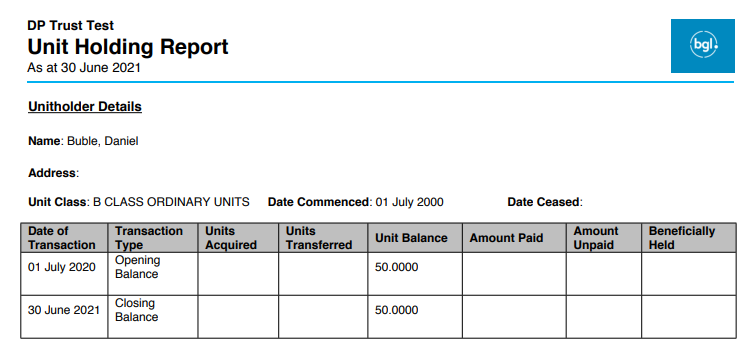 Page 2:
Frequently Asked Questions
---
What transactions are shown in this report?
Transactions in this report are created from one of the three following methods:
Where does the Beneficiary information such as Name / Address / Date Commenced etc. come from?
The information for the Beneficiary's Name and Address is linked directly to their contact. For more information, please see the Contact Screen article.
The Date Commenced / Date Ceased is entered via the Beneficiaries Screen.
Can I remove sections of this report if they are not needed?
You can remove sections of this report by downloading and editing the report's template. For more information on this process, see Customising the Template for an Existing Report.