Introduction
---
The Unit Valuation Letter will show a summary of each beneficiaries' unit holdings, reporting on the information entered in the Beneficiaries Screen.
You are able to select one or multiple Beneficiaries, choose between using a book or market valuation method, and input a signing date for the letter.
Navigation
---
| | |
| --- | --- |
| Navigate to Reports from the Main toolbar on the left side | |
| Further select the Reports section | |
Instructions
---
Search for Unit Valuation Letter using the Search Report bar. Alternatively, locate the Unit Valuation Letter under Letters/Minutes.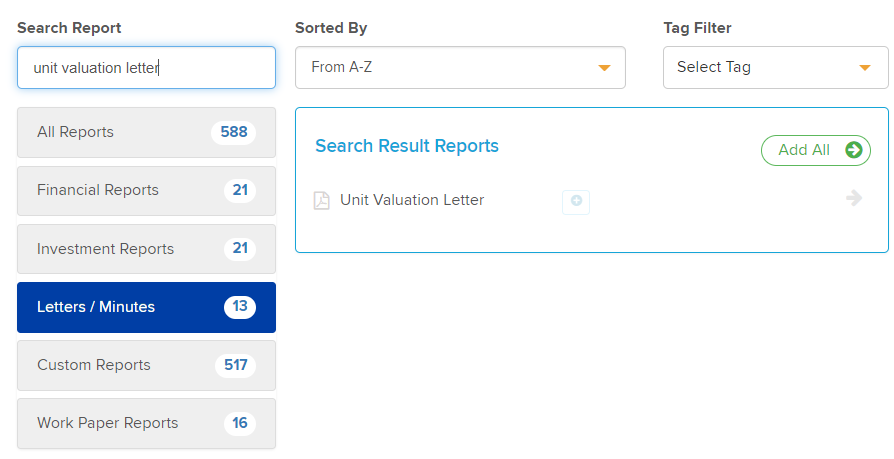 Add the Unit Valuation Letter to Report Pack by selecting the Add To Pack arrow.

To adjust the settings of the report, click the icon.

Within the Settings page, users can choose the valuation method. Additionally, you can select individual beneficiaries, set a specific signing date, and select a trustee to show as the signatory if desired.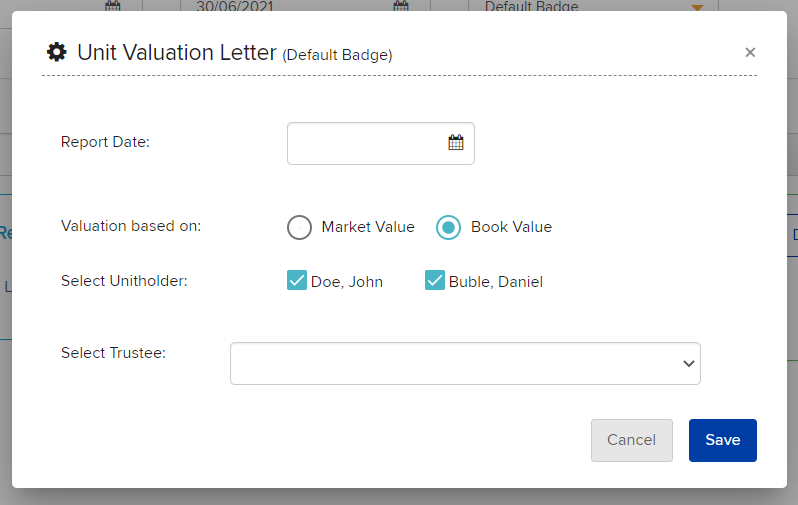 Users have the option to preview or download this report as a PDF, Excel, or Word document. Select to remove the document.

Example Document
---
Page 1: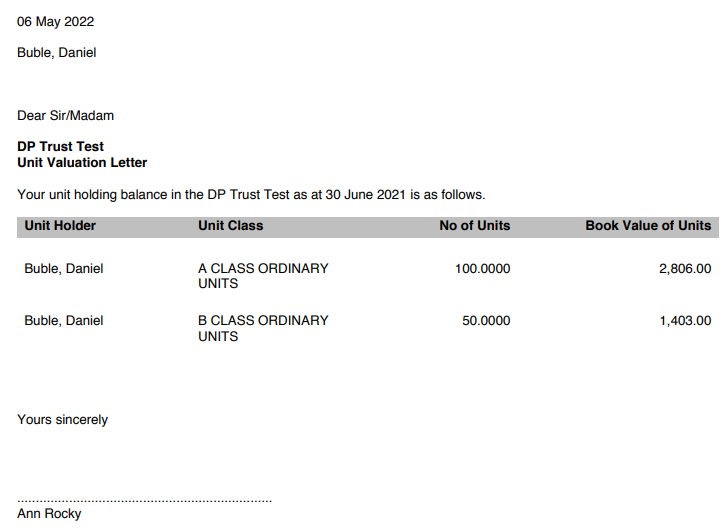 Page 2: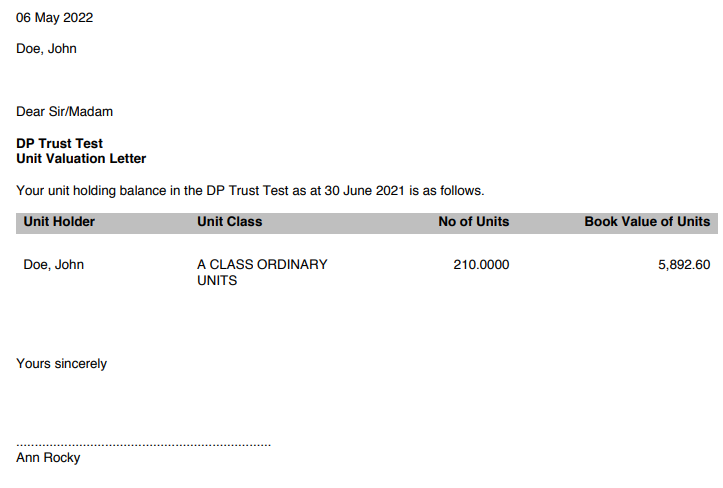 Frequently Asked Questions
---
How is Book Value calculated in this letter?
Book Value is equal to the Net Asset Value on the Balance Sheet. This can be reconciled using the Statement of Financial Position.
How is Market Value calculated in this letter?
Market Value is calculated using the market prices entered on the Investment Security List and the Property Dashboard. The market price used for the calculation is based on the End Date selected for the report.
How do I change between valuation methods / select a beneficiary / change the signing date / signatory?
To change any of the above options, use the Setting button prior to generating the report:
Can I remove sections of this report if they are not needed?
You can remove sections of this report by downloading and editing the report's template. For more information on this process, see Customising the Template for an Existing Report.
How do I change the individual selected to sign for this document?
The individual is taken from the Trustee entered into the Relationships screen. For more information on how to manage these relationships, see Entity Relationships.
Once added as a relationship, this Trustee can be selected in Settings.